Accurately Developed & Superior In Finish CNC Machine Spare Parts, CNC Machine Components, VMC Machine Components, CNC Machine Parts etc....
About Us
We Pratibha Engineering Works are an Ahmedabad, Gujarat based company engaged in the Indian Industry as a manufacturer of an exceptional quality array of CNC Machine Spare Parts. Our finest array of CNC Machine Components, CNC Turning Machine Spare Parts, CNC Automation Machine Spare Parts, CNC Packaging Machine Spare Parts along with a host of other spare parts, is priced very reasonably to meet needs and expectations of diverse clients. We also render CNC Turning Machine Job Work Services, VMC Vertical Machine Job Work Services as a service provider.

For the production of quality based spare parts we have state-of-the-art-facilities and our high production rate is the result of the same. Our business unit aims at expanding reach in the industry for which we are manufacturing completely application specific and precision engineered array, which is famed by our customers in the nationwide market. We have adept engineers, product managers, quality inspectors and packaging perfectionists at our company to handle their respective job works in the best manner. Our experts make sincere efforts in bringing forth a completely quality based range.
Consideration Points For Product Fabrication
When it comes to fabrication of CNC Machine Spare Parts, our experts take material, size, design, length, finish and a few other factors into consideration. These factors are given major importance because the quality and functionality of finished products is dependent upon them. Our production experts, using their knowledge and experience at hand, design, develop and produce precision engineered and application specific spare parts and meet customers' requirements.
In-house Quality Testing
We at Pratibha Engineering Works believe that the quality in CNC Machine Spare Parts is what customers see first than anything. So, we, with a mission to satisfy needs of clients for quality spare parts, check finished spare parts at our own, in-house quality testing lab. Quality inspectors handling all the operations in the lab, check CNC Turning Machine Spare Parts, CNC Packaging Machine Spare Parts and other products for flawlessness. Any defected piece in terms of finish, design or size is sent for replacement. This way we ensure customers have hands on money-worthy solutions.
Why Choose Us?
Gaining a respectable position in the industry has been easy for us because we have been focusing on the following:
Fabrication of standard quality CNC Machine Spare Parts
Timely delivery at customers' doorsteps
Stringent quality testing procedures
Availability of spares in numerous designs and dimensions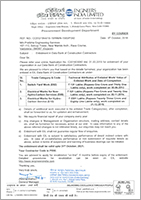 Get in touch with us